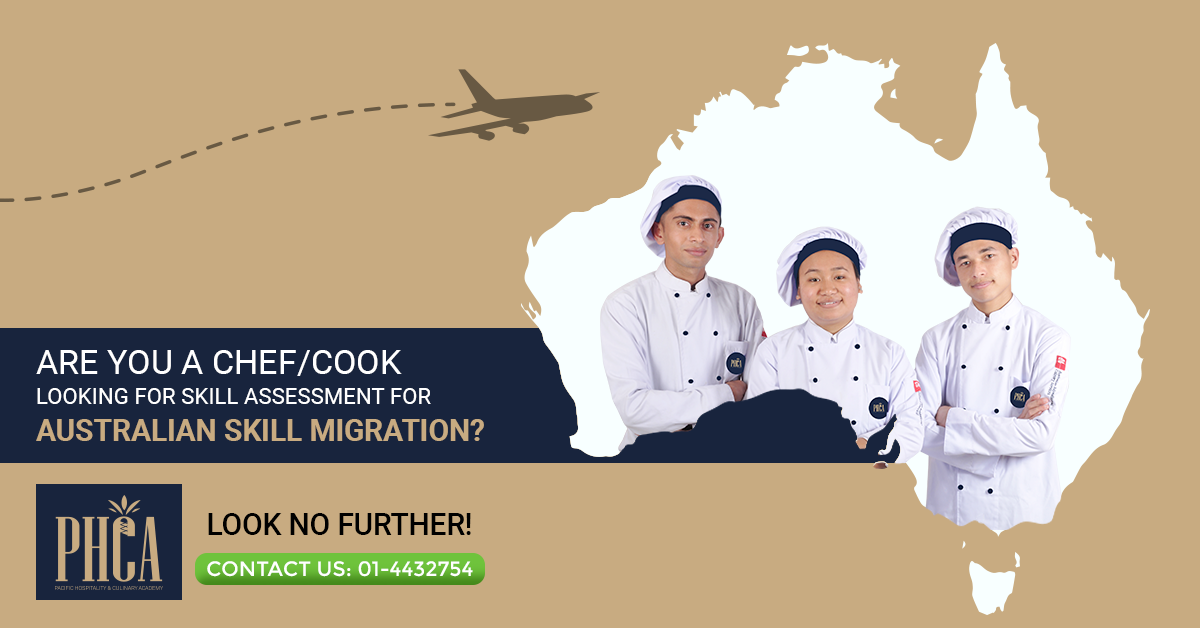 If you want to work as a Chef or Cook on a 482 Visa in Australia, you must be able to prove that you have the qualifications and experience as a cook or chef.
To qualify as a Cook you must have:
Minimum of three years' experience as a cook (Certificate III & IV Commercial Cookery) or;
undertaken full time training and employment as a cook for three years.
To qualify as a Chef you must:
be at a supervisory level for a minimum of six years and/or;
have Certificate III & IV Commercial Cookery plus Advanced Diploma in Hospitality
Applicants from most of the countries need to go through Skill Assessment for Australian Migration purpose. The TRA officer will require formal documents that verify work and training including length of time.
The minimum entry requirement for the Cook and Chef occupations are an Australian Qualifications Framework Diploma or higher qualification.
The Australian Standard Classification Requirements are as follows:
  Cook
• Prepares, cooks and seasons foods in dining establishments and catering.
Skill Level:
The minimum entry requirement for the cook occupation is the Australian Qualifications Framework Certificate III or a higher qualification. A Cook must have completed a formal apprenticeship. If there is no formal apprenticeship contract, a three-year vocational training period must be evidenced.
Tasks Include:
inspects food for quality control
monitors temperatures of cooking equipment like ovens, grills, etc.
prepares food for cooking and cooks food
seasons food appropriately during cooking
portions food into correct serving sizes, plates it, adds gravies or sauces and garnishes
stores food in the appropriate temperature controlled facilities
may plan menus and estimate food requirements for orders and inventory
may prepare food for special dietary requirements
may train kitchen staff and apprentices.
Chef
• Is responsible for planning and organizing the preparation and cooking of food in catering establishments or dining venues.
Skill Level:
The entry requirement for this occupation is an Australian Qualifications Framework Diploma or a higher qualification. Chefs must have verification of an apprenticeship as a Cook or a minimum of three years of experience as a Chef. In all situations, pertinent experience is required in addition to the formal qualifications mentioned.
Tasks Include:
plans menus for the establishment and estimates food and labour costs, in consultation with the Head Chef
supervises the activities of cooks and assistants, implements staff rosters, monitors
discusses food preparation issues with staff members, dietitians, and managers
requisitions food, kitchen supplies and equipment
demonstrates preparation techniques to cooks and advises on proper cooking procedures
prepares, seasons, and cooks food
portions food into proper servings, adds gravies, sauces, and garnishes
explains, monitors, and enforces hygiene regulations
may select personnel and train staff
may freeze and preserve foods, as appropriate.
May have one of the following titles:
Chef de Partie
Commis Chef
Demi Chef
Second Chef
Sous Chef
The demand for chefs in Australia continues to be high with outstanding opportunities available to overseas chefs with the experience and qualifications required for a 482 visa. If you are an overseas chef interested in opportunities in Australia, simply email us your detail CV at [email protected] and we'll be in touch.