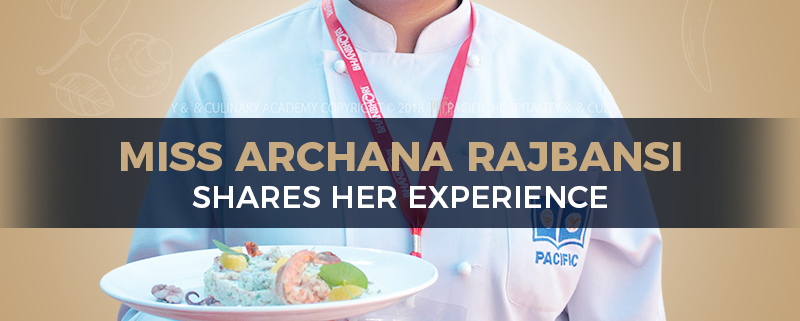 Hello everyone! Firstly, I would like to start with my introduction. I am Archana Rajbansi and I am a student here at Pacific Hospitality And Culinary Academy enrolled in Certificate III in Commercial Cookery. I have just recently completed my one year of training with PHCA during which I got the opportunity to do my internship in the kitchen department in Hotel Shambala, Kathmandu. It was such a wonderful experience training under professionals and getting that kind of industrial exposure. I had also received the opportunity of participating in the Hypro Master Chef Challenge, a special event in the Sixth Food & Beverage Hospitality 2018 expo organized by House Of Rajkarnicar. And to my surprise, I was able to secure the second runner up position in the competition. I was very hesitant of participating at first because I was not a confident person. Thankfully, with the college's support and guidance I participated and I got to share and live such an overwhelming experience. It really boosted my confidence and I really got to learn so much. I have got the opportunity to have had many such experiences that would remain in my mind's eye as PHCA always strives to provide such kind of platforms and exposure for the students through events, workshops, trainings, etc. We really get to explore ourselves and create, innovate and push our skills further.
One of such events was "The Christmas Delight" event that was organized by British Coffee School in association with Pacific Hospitality Culinary Academy on the 24th of December at PHCA. It was a dinner event where the guests invited got to experience fine dining and indulge in a three course meal. And with all of us, the aspiring chefs engaged in back of the house as well as the front of the house, the Christmas dinner party turned out to be a success. I, however, was involved in the food production department where as some of my friends were involved in service, some in maintaining guest relations and some in live music as well. To sum it up were given the responsibility of running the entire show, be it food, be it service as well as entertainment.
Experiences are personal – and there is a lot of learning that can be derived from those experiences. We entered the kitchen at around 10 AM for the preparation needed. Then we had a small briefing about the dishes we were assigned; furthermore we were divided into groups. After group division we were on the floor doing the preparation.
Having had the experience of working in a professional kitchen I have realized that kitchen is a place where team work, co-ordination, communication, helping each other matters the most. We all went through the precarious process of producing delicate and delicious meals. Everybody was on full swing doing their allocated works. The event started at around 5 PM, and then the real game started on. Pressure and stress could be felt and the kitchen environment looked tense.  Then list of orders started to pile up, we were on and on dealing with the meal prep, plating and finally passing the orders to the service department. In this kind of situation we ourselves become more critical of our dishes than the customers.
Talking about the obstacles, I clearly remember we ran out of stock for our main course. It was a chaotic experience, my friends and I myself had a kind of panic attack but with great team work we overcame that too. Within a nick of a second, some of our friends came up and helped the team for the immediate production. And we were able to provide the dishes on time.
Summing up the whole experience, yes there was some rush hour but what is a kitchen without the rush hour and at the end all of those efforts were definitely worth it. For running a successful event great team work is a must. And I was glad I got to learn that through experience. Lastly, I would like to thank our college management team for providing us this experience.
The message is: always be positive, passionate, listen to your superiors and never question their credentials or their judgments. Learn how to be a good team member but never rest easy because that team will change tomorrow! So you need to be on your feet all the time! Be confident and work with full determination towards turning your passion into a career!
https://www.phca.com.np/wp-content/uploads/2019/01/Blog-post-archana.png
800
800
Temp User
https://www.phca.com.np/wp-content/uploads/2018/02/logo-small-300x262.png
Temp User
2019-01-24 10:30:33
2019-01-24 10:30:33
OUR STUDENT SHARES HER EXPERIENCE OF "THE CHRISTMAS DELIGHT" EVENT!